Edit:Kyle Wiggers Digital Trends
2016-12-16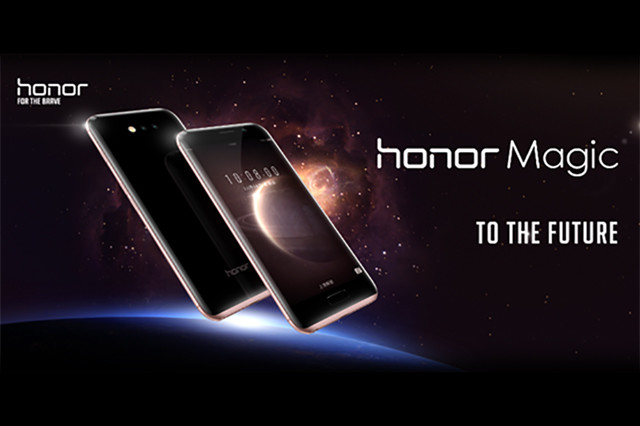 One of the most beautiful and imagination mobile phone release at 16th Dec.2016 - Huawei Honor Magic
Honor, a sub-brand of the Chinese manufacturer Huawei, waved something of a magic wand this morning. At a press event on Thursday, it announced the Honor Magic, a smartphone equipped with artificially intelligent assistant that aims to anticipate your needs before you do.
"The Honor Magic marks the culmination of Honor's extended R&D efforts in bringing the best of technology to its customers," Huawei said in a statement. "The Honor Magic breaks new ground by incorporat[ing] artificial intelligence designed to understand and analyze users' data in order to provide intelligent interactive features."
At first glance, you wouldn't guess it — there's nothing particularly "magic" about the Magic's on the outside. That's not a knock against its aluminum unibody, an appealing sloping, curving candy bar design with ever-so-slightly tapered edges, but a testament to the Magic's minimalism. On the front is a 5-inch Quad HD (2,560 x 1,440 pixels) AMOLED screen shielded by curved glass, above which sits an earpiece, a proximity sensor, an 8-megapixel camera with a fixed-focus lens and f/2.0 aperture, and little else.
One item of special note is Magic's home button, which doubles as a fingerprint scanner and one-stop navigational shop. Using a combination of touch, taps, and swipes, you unlock the Magic, return to previous pages within apps, and launch the home screen.
On the Magic's rear is a 12-megapixel dual-lens sensor with a f/2.2 aperture. It, much like the dual-camera sensor on the Honor 8, captures a black-and-white and color image simultaneously to produce "clearer" and more "vibrant" images than single-sensor modules are capable. On the Magic's accented aluminum sides are a power button, volume rocker, loudspeaker, and requisite 3.5mm audio and microUSB ports.
The Magic's interior, much like its exterior, is relatively simple. Powering the handset is Huawei's proprietary Kirin 950, an octa-core processor with four low-power cores for lighter tasks, and four high-power cores that kick in to crunch bigger numbers. A 64GB memory module handles the Magic's storage needs, while 4GB of RAM juggles apps and a combination Wi-Fi/Bluetooth 4.2/GPS radio manages wireless connectivity. Myriad sensors, including a hall effect sensor, proximity sensor, ambient light sensor, compass, accelerometer, phone-status indicator, and gyroscope, round things out.
Powering the Magic's components is a 2,900mAh battery that supports Huawei Magic Power, a proprietary rapid charging technology enabled by "new battery materials." Thanks to the Magic's "graphite molecular structure" and charging circuit design, Huawei said that it can juice up to 70 percent capacity in 20 minutes, or up to 40 percent capacity in 10 minutes.
The Magic's true secret sauce lies in its software: Honor Magic Live, a proprietary operating system that drives predictive features with "human-like interactions."
The undisputed highlight is Smart Services, a Google Now-like recommendation engine that serves up contextual suggestions. When you're chatting about movies with via an app like Hangouts, the Magic recommends the latest blockbusters. When you're on the road, it automatically launches a driving mode. When you press and hold the Magic's home button while you're browsing the web, it'll surface information about the current page. And Magic's Smart Display shows information like an incoming Uber's license plate number, movie ticket booking codes, and package statuses on the lockscreen.
Source:The Site