Motorola has announced the Moto Z2 Play, the thinner, lighter and faster successor to the Moto Z Play.
For all that has changed, there are some familiar pieces here. The design, for example, is mostly the same with its smoothed-over edges being one of the big changes. It also keeps the 3.5mm headphone jack and USB-C port, which are good moves in our book.
Below, we'll dive into what makes the Z2 Play tick and how it differs from its predecessor and the rest of the competition.
Cut to the chase
What is it?

Moto's mid-tier, mod-compatible smartphone

How much will it cost?

$499 ( about £387, AU$675)

When will it be out?

Now in Brazil, globally in June, US in summer
Moto Z2 Play release date and price
The Moto Z2 Play is available today in Brazil and is said to be releasing globally throughout the month of June. If you live in the US, it will first be available exclusively on Verizon later this summer followed by the release of an unlocked version for $499 ( about £387, AU$675).
Moto Z2 Play features
The new phone will come with the latest version of Android Nougat out of the box and will be powered by the Snapdragon 626 octa-core chipset. The Z2 Play appears to come in multiple configurations, as Moto is offering the choice of 3 or 4GB of RAM as well as 32 or 64GB of internal storage.
Compared to its predecessor, it's a full millimeter thinner at 5.99mm, bringing it closer to the ultra-thin status of the 5mm-thin Moto Z. It's lighter, too, shedding off nearly 20 grams from its weight.
For all that has changed, there are some familiar pieces here. First off, the design isn't totally brand new, but the edges have been smoothed over compared to the striking edges of last year's model. It also keeps the 3.5mm headphone jack and USB-C port, which are good moves in our book.
Key differences
The Play variation of Moto's smartphones tend to signal that it's down to do just that: play, and usually for longer and harder than its flagship can. Oddly, Moto's move to slim down the new phone comes at the cost of slicing its predecessor's champion 3,510mAh battery down to 3,000mAh. It goes without saying that the Z2 Play probably won't deliver two-day battery life, but Moto promises 30 hours of use and we'll certainly be testing that out in the full review.
Next, the camera bump on its back might look familiar, but it contains an improved sensor that's capable of shooting photos with larger pixels. Despite the drop down from 16MP to 12MP, it now has a lower aperture value that should ideally lead to some better low-light photography chops than its predecessor.
If you're facing the screen head on, the new ovular fingerprint sensor on the front of the phone looks a lot like the one found on the Moto G5 Plus. So it makes sense that Moto is also bringing the one-button nav ability found in that budget phone to the Z2 Play. Activating this feature removes the on-screen navigation in favor of finger gestures that you can perform right on the sensor. It sound strange, but don't knock it until you try it!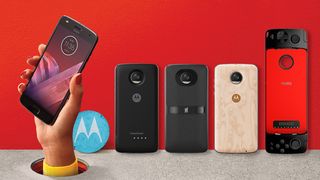 Of course, it wouldn't be a Moto Z phone unless it had Moto Mod compatibility. Thankfully, it does, and Moto is celebrating the phone's launch by showing off a few new mods: Moto's own TurboPower battery case, another Motorola-developed style mod that enables wireless charging, a new and supposedly improved JBL SoundBoost 2, and finally, the Moto GamePad, which looks to turn the Moto Z2 Play into a Nintendo Switch-esque portable console for more authentic on-the-go gaming experiences.
We'll have the full review of the Moto Z2 Play up very soon, so stay tuned.
Source:Yahoo